Younger cattle values proceed to pattern down on AuctionsPlus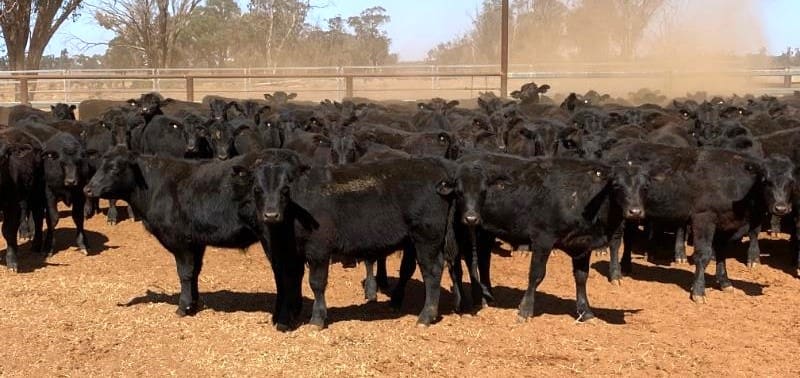 WHILE there was some enchancment in clearance charges, most younger steer and heifer classes continued to fall in worth in on-line buying and selling on Elders' and Nutrien's AuctionsPlus platform this week.
Cattle listings slipped 17 p.c to 7497 head, whereas clearance improved to 48pc.
With younger cattle costs persevering with to slip, it means that the development in clearance charge is because of widespread changes to distributors' reserves.
The urgency of a profitable sale has elevated as drier circumstances put strain on carrying capability.
September/October is the height season for listings of NSM heifers & calves and NSM cows & calves following spring calving and earlier than becoming a member of. These classes noticed listings enhance by 10-18pc this week.
Younger cattle classes misplaced additional floor this week as restocker demand stays subdued. Feedlot consumers had been energetic on the heavier steer classes, securing 46pc of the 330-400kg steers and 56pc of the 400kg+ steers.
Trying particularly at Angus listings, 50pc of all steers offered on-line had been secured by feedlot consumers.
Steers 200-280kg registered a smaller providing of 1102 head and averaged 307c/kg, down 15c or $60/head from final week, for a 69pc clearance. Costs ranged from 247- 352c.
From St George, QLD two strains totalling 178 Angus x Santa steers 6-9 months averaging 246kg returned $810/head or 330c/kg. An additional 102 of their lighter brothers averaging 197kg made 347c/kg or $690/head, whereas 58 backgrounder sort sisters averaging 180kg made 239c/kg or $430.
Steers 330-400kg registered a smaller providing of 629 head and averaged 301c/kg – down 5c or $54 from final week for a 58pc clearance. Costs ranged from 243-335c. a A line of twenty-two Hereford steers 11-12 months averaging 356kg from Gundowring, VIC returned 329c/kg.
Heifers
Heifers 200-280kg registered a smaller providing of 716 head and averaged 224c/kg – down one other 21c/kg from final week for a 72pc clearance. Costs ranged from 179-334c.
From Holbrook, NSW 30 Angus heifers 11-12 months averaging 261kg returned $630 or 241c/kg, and can journey to a purchaser close to Hexham, VIC.
From Garoo on the NSW northwest slopes & plains, 78 Speckle Park/composite backgrounder heifers 248kg at 8-12 months made solely 185c/kg or $460 a head.
Heifers 330-400kg registered a bigger providing of 587 head and averaged 255c – down 2c from final week for a 30pc clearance. Costs ranged from 220-324c. A line of 24 Angus heifers 12-16 months averaging 388kg from Geranium, SA returned $1118, or 288c/kg.
Breeding females
PTIC heifers registered a smaller providing of 439 head and averaged $1126/head or 252c/kg – up $56 from final week for an 11pc clearance. A line of 28 Angus heifers 18-24 months averaging 465kg from Drumborg, SA returned $1300.
NSM heifers & calves registered a bigger providing of 252 head and averaged $1886/pair – up $346 from final week for a 50pc clearance. From Cowra, NSW 31 Angus NSM heifers 25 months averaging 493kg, with calves at foot, returned $2220/pair, $420 over the reserve.
Costs as at 2pm Friday 1 September.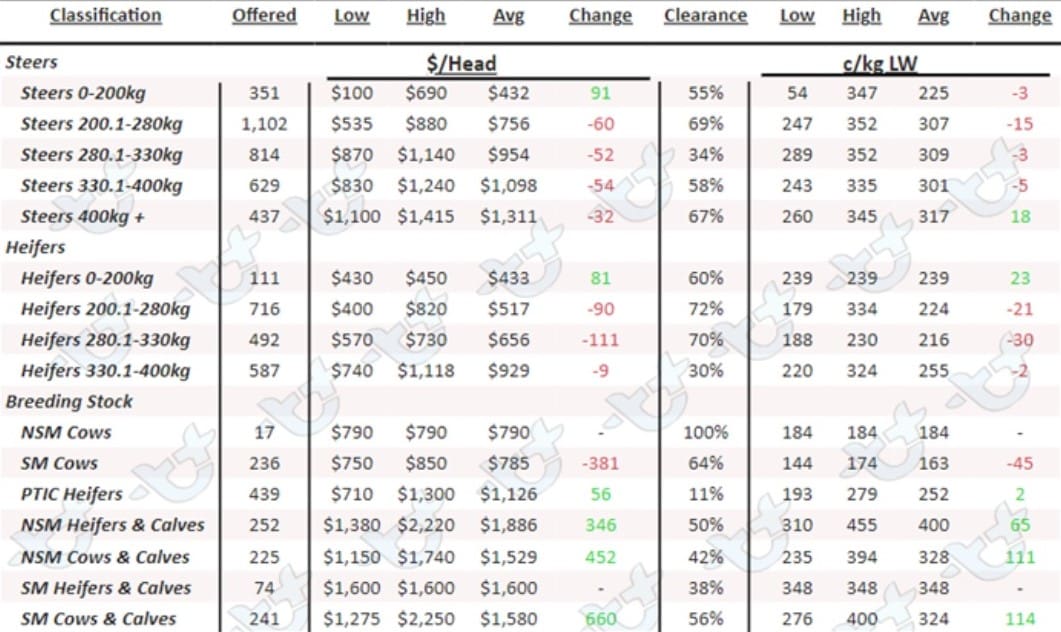 Supply: AuctionsPlus